Best Of BAK XIII (Japanese Ltd Edition)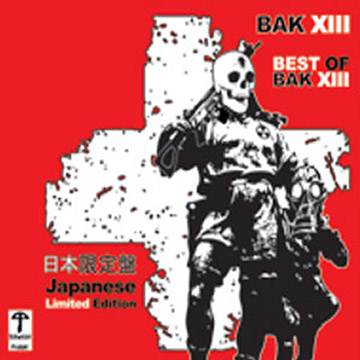 Title: Best Of Bak XIII (Japanese Ltd Edition)
Date: 2008
Label: Urgence Disk
Catalogue: KAB078
Tracklisting:
Things Will Never Change
Open The Borders
Media Control
80's Are Back Forever
Lost In Darkness (Guitar Mix)
Ghouls And Ghosts
Dance And Die
Disco Armageddon
Homo Disco
Sad Song
New Wave Party
VSKMR
Welcome To The Void
Body Religion
Lost
Dead Again
Nothing Left To Believe
Where's The Party?
Fuck You And Dance
Manifeste
Under exclusive license from BaK XIII's European label Urgence Disk Records, Deathwatch Asia's « Best Of BaK XIII » comes with an eight-panel folding insert detailing the entire recorded history of BAK XIII, plus a four-panel insert with Japanese liner notes about the band. Limited to 222 copies, this unique album is presented in a six-panel digipak, with artwork specially commissioned for this release.